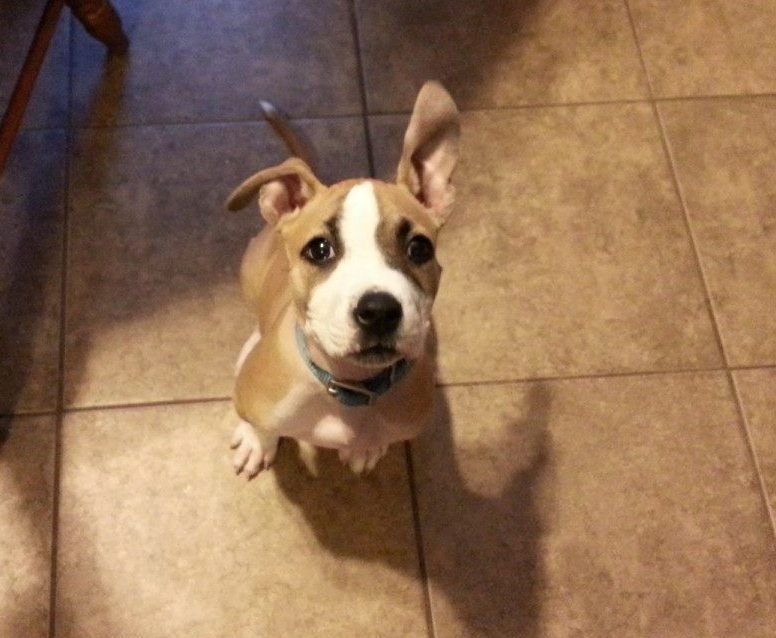 This ittie bittie pittie is barely 6 weeks old.   His foster mom says he's eating well and really enjoys the formula!!!  He's not much longer than a 16oz water bottle!  Clumsy as can be but such a clown!!  He lives with four other dogs, two cats and two kids so he's getting lots of socialization and will easily fit in just about anywhere he goes.
Update from his foster mom:
7/17/13 Remember little Rolo? Look at him now! He is scheduled to get his second round of puppy shots soon. We weighed him last night and he is now 8 1/2 lbs! He is very playful for a bit but drops really fast! He is crate trained and is working on potty training. He plays with all my dogs and does well. He thinks he is about 100lbs bigger than he really is (we call it little man syndrome). He tries to play with the cats but they don't share the love for him that he has for them! He is full of personality and is funny as can be! The class clown for sure! He loves to cuddle and nap! He is always a step behind you wherever you go!
7/24/13 Rolo went in for his second round of shots today… he is no longer ittie bittie. He has doubled his weight since the last time he was there! He goes back August 14th for another round of shots and his neuter!
Location –
Fostered by Kristina
[tab title='Weight/Age']
5 lbs., approx. 6 weeks old
House Manners –
Working on housebreaking
Children –
Great with kids
Other Pets –
Great with dogs and cats
Sponsorship Status –
Sponsored by StevLor Enterprises