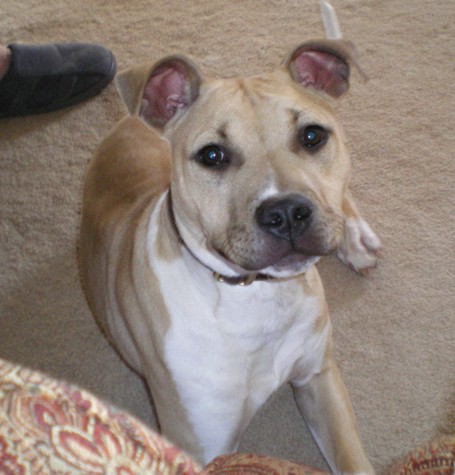 It's been a long time since I updated my page and I lot's of new things to share. First, as you can tell from my new pictures, I am a big boy now. Quite a handsome boy too, if I do say so myself. I am over 1 year old now and I weigh about 65 lbs.
Since I am still pretty much a pup, I have lots of energy and really love to play. My foster parents take me to doggy daycare each week for almost a year. I love going and playing with all my friends. It has really helped me to interact with all kinds of dogs, big and small! Everyone at the daycare loves me a lot. They take super special care of me and always put me down for my nap when I start getting cranky ;)
I really enjoy obedience training with my foster dad. He has taught me to sit and lay down. It is lots of fun to practice with him. He gives me tons of treats for doing a good job! I also LOVE to play fetch (or keep away). I am super fast and will bring the ball back most of the timeJ.
Like most dogs, I do have my quirks. I would do best in a forever home without other boy dogs. Girl dogs are OK but really a home for just me would be totally AWESOME. I also have this weird thing I do when I am on a leash. I get kind of scared when I see other dogs. My foster parents say it is "leash aggression" but they are working on it with me and we have made lots of progress. I do take walks really well and don't have any problems while on leash if the dogs are really close to me.
Some really cool things about me are: I am completely crate trained, I know how to come in and out a doggy door, I am super snuggly, I fart a lot and I am so strong I drag logs around the yard. I love to chew on bones and sticks and one of my most favorite toys is my Nyla Puzzle bone.
Everyone that meets me loves me almost immediately. I know my foster parents love me lots but it would be really cool to have a forever home and family. FYI – I am really great with kids ;-)
My story:
Bo and his brother Travis were found in a country ditch along with their littermates at 5 weeks old. Bo is an energetic and funny little guy with a great personality and a big heart.
Bo is settling quickly into life at his foster home He loves to wrestle with his foster brother outside and run through the leaves in the backyard.
Bo has already learned how to sit and waits for permission before eating his food. Bo is very cuddly and great with people and other dogs. He loves to be held and is anticipating the day he will be able to jump up on the bed like his foster siblings do.
Peanut Butter is one of his favorite treats and he has already learned that the kitchen is the place to be when Mommy is cooking. Bo is very close to being fully potty trained with only a few accidents that usually occur when Mommy and Daddy are paying attention.
Bo is a wonderful, beautiful boy who needs a forever family with lots of love, a little patience and a big sense of humor. He is a perfect puppy who would add joy to any home.