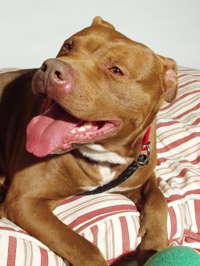 Pet Peeves: Being locked up in boarding, Ugh, that stinks!
Ideal Day: Holy Cow! If someone would take me for a super long walk,
letting me pee on every tree we pass until there is no pee left, and
until I'm so tired my tongue drags the ground well then I'd be the happiest
little dog you ever saw!
My Story:
This gorgeous guy was found in a town with a breed ban. Bodie is truly
a stud! He's as cute as can be, with a buff bod and always looking for a
good time. He knows how to have fun and wants to be washing someone's
face with his tongue every chance he gets. Bodie is active and very
much wants to be with an owner who will teach him new things and take him to class to learn manners. He has interacted well with most other dogs,
but would do best with a female dog who he can roughhouse play with and
tire each other out.
Boadie's first few months have been a little rough. He spent his first
month in boarding and then was diagnosed positive for Heartworms. He is currently undergoing his HW treatment and must be kept very still while the treatment goes to work on his body. He is having a hard time not
being able to run and play like he loves to, but he finally found an
open foster home where he could get some one on one attention while he's
being kept so still and calm. He desperately needs sponsorship to help cover the costs of his treatment and medical fees. Please help Bo by donating to his heartworm treatment fund today!!!
He has been a very good boy and once his treatment is complete he will
make a fantastic pet who is healthy, happy and eager to give you all
the love in his heart.