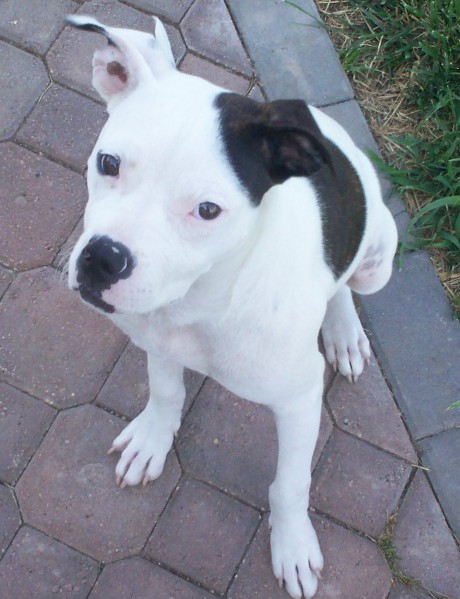 Share me!
her new home. She loves to play with her big brother Cru. I think they
would play all day if we let them, but playtime is outside time only
and not in the house. Having a 70 and 40 pound dog playing in the
living room is sure to break something. :p I never knew pit bulls
snored and grunted so much until I got her. They should call them "pig
bulls". Haha! Every day she makes me laugh with her antics. Today I
took her to a pet store to buy food. She was a little nervous, but she
did well. Two people came over and petted her and told me they thought
she was adorable. We are still working on her down. She'll get it
soon. I know she will. Puppy class begins Jan. 7th. I'm hoping I can
get her in because I think she'll do well. Hopefully she'll grow out
of her ADD. Haha! Deli sends her love…and lots of pittie kisses too!
She is snoring next to me on the couch right now.
Thanks for everything!
Christina
Nicknames: Deli
My Story: Deli is an absolutely adorable 4mth old puppy who is ready for her forever home!
She is a total delightful little girl who loves to play with other dogs and likes cats.
She has a playful, social, affectionate
personality but is also independent and will entertain herself with toys
(no signs of seperation anxiety). She has shown some signs of dominance
and will need an assertive owner to train her. She sometimes barks if
she sees other dogs outside or if someone comes to the door but is
otherwise very quiet.
She is an all around well socialized and happy puppy!