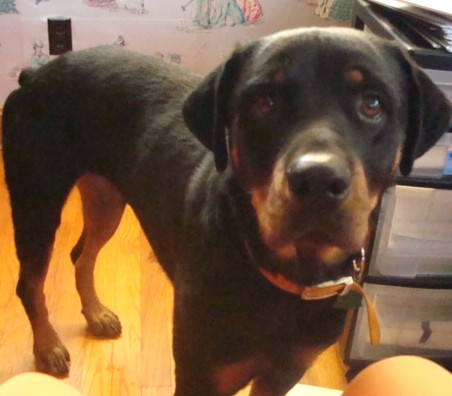 Once at home, with patience, she has slowly come out of her shell. It took a few days for her to realize we were not going to hurt her, and she is now attached to her foster parents at the hip. She got her first bath and stood their stoicly, enjoying getting that nasty dirt from weeks of wandering off of her. While still shy of strangers and strange loud sounds, otherwise, she is a sweet, loving and playful girl. She has had all her shots and a clean bill of health, it will take some time to grow her lucious black coat back, but the hair is already starting to come in. She loves to cuddle and be rubbed and petted, she will bury her face in your lap or tummy to get her lovin' on. Weenie gets along fine with other dogs who don't get up in her face and invade her personal space. She will not share food or toys well, so her new home will have to understand this and be responsible about it. She spends time with 3 males dogs and is fine with them, though she will curl her lip if they get too rambunctious around her. I think with a nice young male, she would want to play, but only on "her" terms :)
Weenie is a fantastic and sweet girl, we have no idea how this lovely lady ended up stray, she knows sit and is perfect in her crate. She loves her toys and will fetch for you, though she still tires out easily as she has a lot of weight to gain to get back to her normal rottweiler size. She is only 50 lbs right now and should be about 80 lbs.
Weenie needs a loving, patient home that will take time to let her open up. Once she has bonded with you, you will have a fabulous, devoted friend and protector for LIFE.