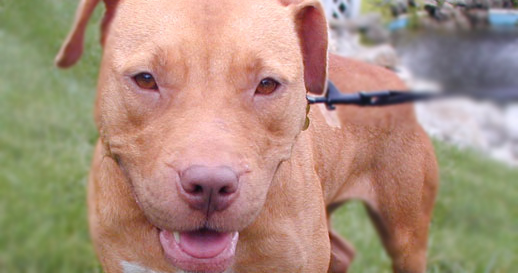 Lola didn't need to be bribed ;-) With her scarred body and skeletal frame, she hobbled up the the officer, sat down at her feet, and gently took the food. At that time, the officer played with her ears, rubbed her back, felt her legs, and Lola didn't startle once -she was just so happy to be fed and loved.
The officer gently picked her up and put her in the car, and that's who she's been with for the past week. She only has good things to say about little Lola, who she has since gotten spayed, heartworm tested (she's negative!) and vaccinated. Lola seems housetrained, crate trained, and loves other dogs so far and enjoys her romp time. She has met a cat and definitely has interest, but we're not sure what intentions at this time. She could possibly live with a dog-saavy cat with strict supervision.
At first extremely sweet and a teeny-tiny bit shy, this trusting little girl will approach you with eyes full of hope right when you meet her. She has a remarkably cute little waggy tail, and you can tell that she's not used to being doted on yet, but it suits her, and she's so thankful for being treated like a princess -but she is afraid that it could all just be a dream and slip away when she wakes up. She will make your heart ache after considering what she's endured in her short life. She bonds quickly and will love anyone that gives her a second of their time and understanding.
Lola is urgently looking for a home where she receive plenty of love, exercise, and attention for the rest of her life. She is a truly special soul that will make a wonderful family pet who will never leave your side. Her situations is very urgent as the officer cannot have her past August 25th. Please, apply for Lola TODAY!