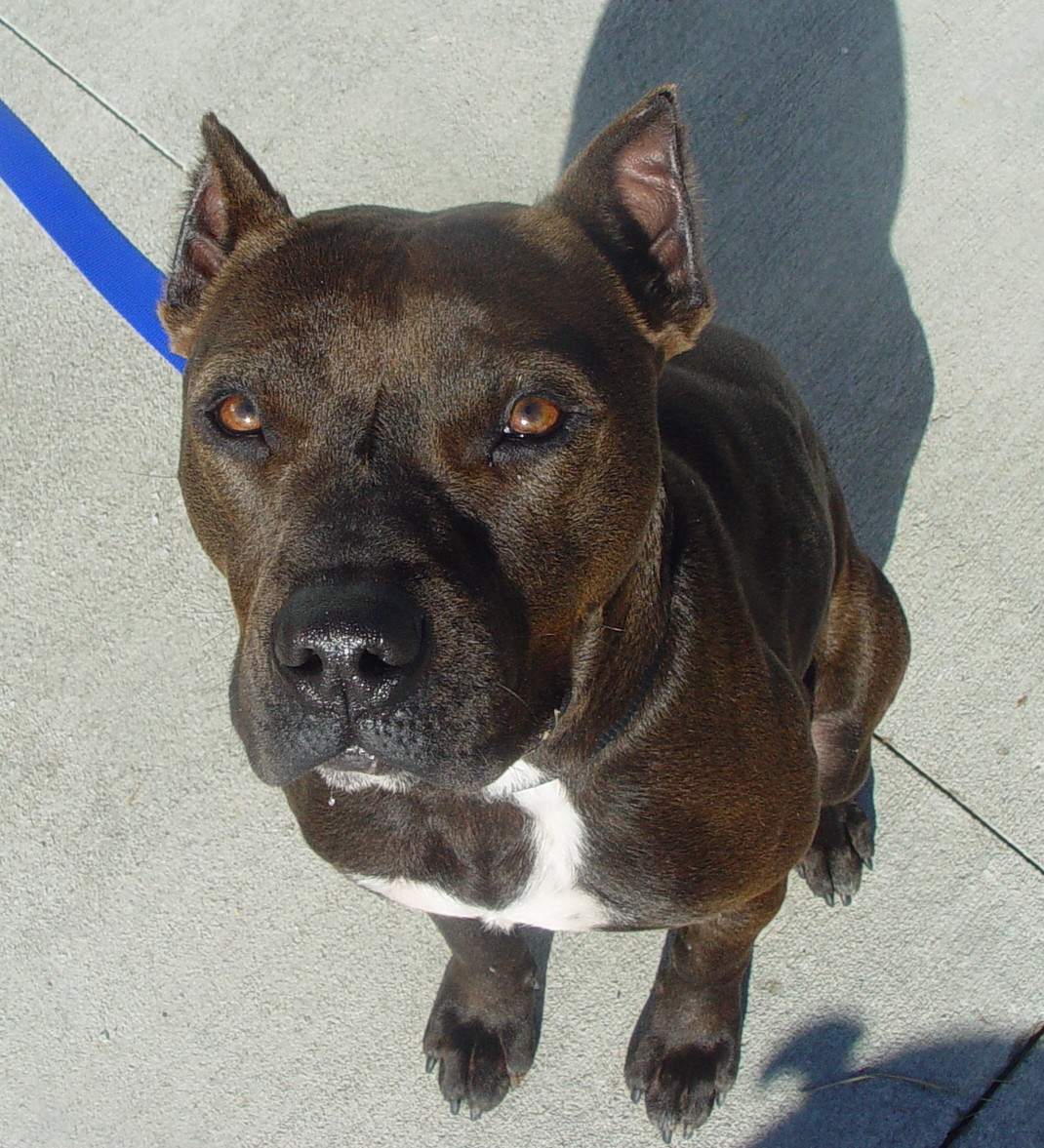 fine with them, he has been hurt in the past by people, and less commotion in a household would be ideal for him. He is an active boy though and loves to go running and just cuddling on your lap while holding his favorite toy (a kong). He is currently in boarding because our rescue group does not have any available foster homes. He is being excellent about waiting for a forever family, but it's also hard on him to not have that stability that only a real home can provide. He is all pitbull in a wonderful small package; he's not much over 40 pounds.
He will need positive leadership but is responsive and loving. Because he has been abused (he is hand shy), we need someone who will be patient and kind with him as he learns the household rules. He gets several visitors a week, and we all do our best to take him on outings, continue his socialization, and let him know we love him. Every time one of us is with him, you can see in his eyes how hard he wants to please and how hard he is trying to be good. He is not an obnoxious dog- occasionally he will jump up and down in the kennel when he sees someone coming to see him, but is more of a lap dog. He's generally quiet but will talk if he sees something going on and he can't be a part of it. We doubt he will be compatible with cats but he has gotten along with many dogs he's been introduced to. He could do well with a female companion or as an only dog. Perhaps another dog would help to show him the ropes and build his confidence as. Please consider this chocolate colored beautiful little dog with the kindest eyes.
Looney needs someone to take the time to show him that he really does deserve a loving family. He is very willing to please, but needs a family that is very kind and understanding to his needs. Looney is very smart and he should adapt very well to positive leadership. He mostly just needs a home that will cherish him and shower him with kindness. He's very friendly and once he feels comfortable with someone new he's quite playful and energetic. He really is a great dog, and we know that he is going to make the right home extremely happy. He is crate trained, so he would be easy to house train, if he's not already.
Looney is a tiny little guy. He has an excellent build and is really very beautiful. We don't expect for him to get much bigger. He's a handsome, stocky boy in a adorable little package.