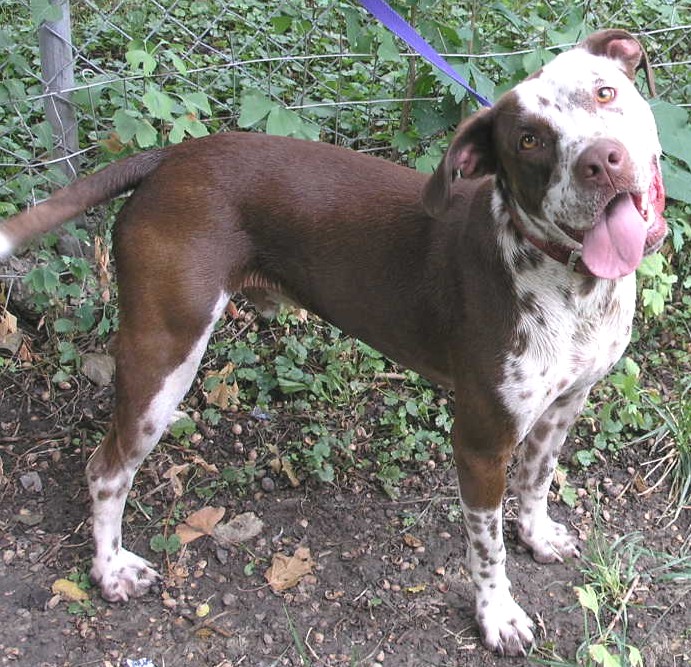 Red has been waiting for a LONG time for his forever home to find him….he's keeping his chin up, but we just feel so bad that he has yet to find someone to claim him as their own. Poor Red is stuck in that "Pitbull Mix" category, where people looking for a Mix dog, don't want a Pit Bull, and people looking for a Pit Bull don't want a mix…..It's very sad because Red is a GREAT DOG! Smart, Beautiful, loving, loyal, sweet, obediant….what more could you ask for?
Red is a very happy boy. He would do great with an active home that likes long walks and/or playing in the yard. He's taken some general obedience classes and is very eager to please. Red is very smart and learns quickly. He's simply a very enjoyable boy ;-)
Red loooooves children, he would do best with older children because of his size. He really likes to play and has a heart of gold. He would do wonderful in a home with kids that want to play outside with him and snuggle with him inside. Red loves grown ups too though, and would do excellent in just about any home. He's not picky – he just wants someone to call his own!
Red enjoys the company of other dogs and would do wonderfully in a home with a friendly female. However, he does need a home without cats. He is fostered in a home with lots of cats, and though he tries very hard to be a good boy, they are simply too much for him. He prefers the more social 4-legged friends ;-) He is house-trained, and crate trained as well.
Red is a truly wonderful boy, and he deserves a home that will cherish him always. Please open up your heart to him, he's been waiting for a very long time for a caring home to come along. He's being very patient…..and we just keep hoping that someone will realize soon what an amazing companion he could be. He has so much to give – he just needs a home to share it with. Please consider giving Red the gift of a family of his own – he'll return the gesture and be a faithful and loving companion full of unconditional love.