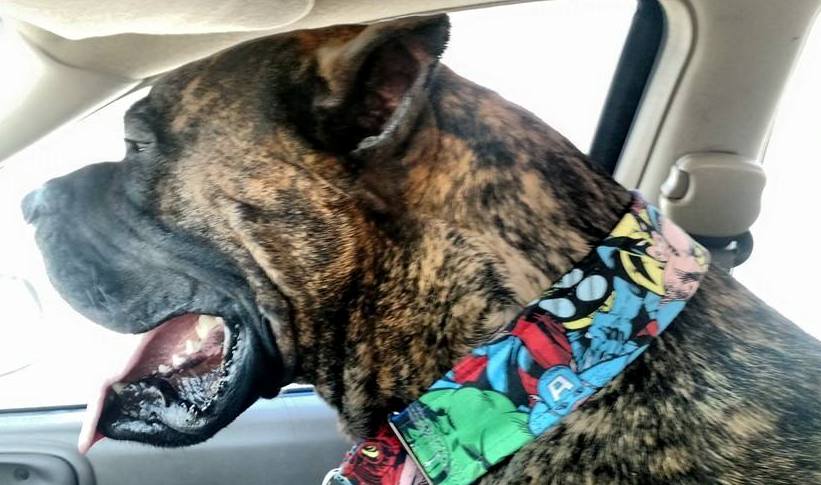 Murphy! We love this sweet adorable big lug!  We know that a special family, full of kids (that he loves!) who wants a cuddling, playful, smart boy to stay by their side for his whole life is out there waiting to meet him!   Murphy's had some obstacles to overcome during his stay in our program, but he is past all that now and is ready to share his wonderful personality with a special family!  Could that be you??  We don't want to dwell on Murphy's past, his struggle through a few touch-and-go surgeries to repair his jaw, his long months of recovery–what we want is to share with the world a great dog who has known adversity and come out shining like a star on the other side.  Can  you give Murphy the loving family he deserves?  Please fill out an app and let us learn more about you and see if we can make a love connection!
Many thanks to Dr. Shirley Fouse at Shawnee Animal Hospital for the outstanding work she did fixing Murphy's jaw.
Location –
Needs a foster home
[tab title='Age and Weight']
3 years, 120 lbs.
House Manners –
Housebroken and crate trained
Children –
Good with kids of all ages
Other Pets –
Good with other dogs and cats
Sponsorship Status –
Sponsored by Sara Andersen, Elizabeth Graves, Anne Medley, Angie Rosete, Brandy Ochoa, Holly Guinn-Beyers, Elizabeth Bayless, Helping Hands for Furry Friends, James Anderson