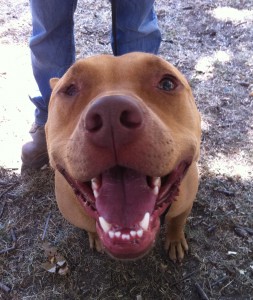 Our super handsome and special boy has finally found a foster home!  He just spent the first two nights of his life in a real home. We are so happy for this boy. Such a simple thing and so long over due for him.  He's adjusting quite well and you'd think he'd had the luxury of knowing what it was like to be an actual pet before. It is hard for us to think about the fact that he's spent his whole life never having the opportunity so far to be a cherished family companion,  or to sleep in his own cushy bed inside of a home.  This precious boy was content and happy just moving into the step up of boarding life. It warms our hearts to be able to show him what the rest of his days are going to be like! Loved, adored, and well cared for.
He is so deserving and such a sweet boy.  Whoever ends up adopting this boy, is truly getting a treasure.
Update from his first night from his foster dad:
First few hours in new foster home:
He's doing pretty well. Scouted out the apartment, every room, multiple times. 
WE had a bath. Only escaped the tub twice (once with shampoo, once without). After that, he was a little nervous, and ran to his safe place.   I left the door open and did some work in the living room, and he periodically would come out, run to some random room, and run right back to the crate. Small steps I guess :-).
I set him up with the essentials, but he hasn't shown interest. We went on a nice 0.5 mi walk and he had a great time . . . really nice outside with lots of leaves and squirrels. I think I'll make this a daily thing in the evenings at dusk after I get home from work. When we got back, I gave him a HUGE Nylabone (one of the edible ones), and he ate the whole thing :-)!
After a couple of hours, he loosened up and was more curious about the rest of his new home
I can't even imaging how MIND-BLOWING this must be for him. Truly a life-changing time.
Best,
Nate & Hatch
First Morning in new foster home:
Hatch slept soundly, and didn't want to come out until he saw it was breakfast time!!  He also sprints across the place when he gets out. :-) Freedom. He just goes from room to room, without stopping. I don't mind, but on account of the neighbors downstairs, we'll have to see.
Day Two: (He's getting it all figured out ;)

We are working on using our indoor walk. I find that if I don't walk quickly someplace, that he won't either. He's totally in tune to my pace.  I can now trust him to have accidents inside if he's been taken out. He's picked it up very quickly.
Loves his Blue Buffalo Lamb and Brown Rice. . . 1 cup in the morning and evening: eats it right up every time!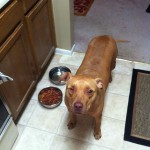 Last night I bought a new vacuum because my old one was literally a hand-me-down hoover from the 70's. Hatch helped me unpack it, as he was very curious about the box contents :-) Now that he feels comfortable, his new thing is walking around looking for things to bring with him to his crate. . . even though he has a handful of toys. Mats out of the bathroom, clean towels out of the basket. . . he also does this thing where I'll be in the same room, and he'll slowly put his mouth around something that he's not supposed to while watching me out of the corner of his eye, like "is THIS okay to chew on?" It's cute. . . I just remind him that he has some fabulous toys to chew on.
He's responding excellent to "sit" (indoors and outdoors), and we're working on "down" and "stay" and "slow" (for when he's getting excited and running). Hasn't discovered that the furniture is something he COULD get up on if he wanted to. :-)
More updates to follow soon!  We are very proud of our boy for coming so far, so fast.  He's going to make some lucky person/family an incredible companion.
https://mabbr.org/wp-content/uploads/2011/10/hatch1.jpg
2288
1936
MABBR
https://mabbr.org/wp-content/uploads/mid-america-bully-breed-rescue-mabbr-1.png
MABBR
2011-10-18 14:44:22
2016-08-08 15:44:18
Hatch has a foster home!