Kellie Pickler Saves a dog over 4th of July Weekend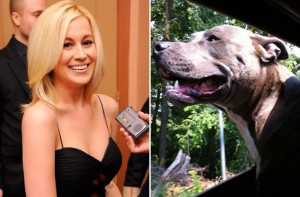 By: Amy Sciarretto
tasteofcountry.com
Country cutie Kellie Pickler is all heart. While much of the world was BBQing and celebrating America's independence, the singer and former 'American Idol' contestant spent her holiday weekend rescuing a pit bull that was left in pretty bad shape. The dog had a broken pelvis and was bitten by a venomous snake, but Chunk — as Pickler named the chocolate-colored pup — has a happy ending: He is now the latest member of the Pickler family!
Pickler posted this initial tweet on July 3: "A pit bull (at vet) w/broken pelvis & venomous snake bite will be a part of our family if he makes it through the night. Poor lil guy. : ("
She followed it up on July 4, writing this post: "*Update* Pit bull is Okay. On the way to pick him up now PRAYING he gets along w/our other dogs or we'll have to find him another home. Meet our latest rescue 'Chunk!'"
Pickler also posted a photo of Chunk, seen above, who looks like a big and lovable boy. Let's hope he gets along with the other Pickler canines so that she can keep him. At least we know Pickler will place him in a good home if there are any issues, and she might even take to Twitter to help locate a loving family for Chunk if that scenario presents itself.
https://mabbr.org/wp-content/uploads/mid-america-bully-breed-rescue-mabbr-1.png
0
0
MABBR
https://mabbr.org/wp-content/uploads/mid-america-bully-breed-rescue-mabbr-1.png
MABBR
2011-07-07 11:54:24
2016-08-08 15:31:25
Kellie Pickler Saves a dog over 4th of July Weekend