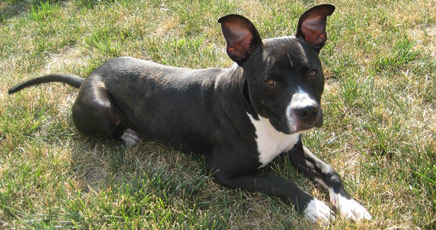 My name is Jax. My friends at MABBR call me Ajax, AppleJax, and Good Boy. I really like Good Boy. My friends also say how cute I am and how content I am. They say I have a happy tail that sounds like a drummer.
I am a growing puppy. I can use obedience classes to be the best dog I can be-but don't worry about me learning because I am very smart. I already know my name, and sit, and come. I'm learning to play fetch. I am house trained and very good on walks and runs. I love kids and adults. I also like cool cats and dogs. And by cool, the ones that like to play with me. I have even shared my food and water with a cat to prove I am very jovial and friendly.
I get focused when I see animals moving, especially the rabbits and squirrels and butterflies. I want to be a part of the fun and run with them all the time. I'm learning I can't especially when I am on a leash. I don't understand because I want to play with everyone, doesn't everyone want to play with me?
The most important thing about me is that I don't have high energy and I am very loyal.My MABBR friends say I am very laid back, I don't know what that means. I know that I like to sleep but when my friends get home, I am always excited to see them. I am a very easy to please. I love to be around people. I like to follow them to let them know I am always near, and when they read or watch TV, I like to lay down right under their feet –just in case they want to stretch their hand down and pet me. Oh boy, I love to be petted.
My MABBR friends are treating me real good. They make sure I get exercise and I am socialized. I have all my shots current. The only thing I need is a forever family. Please consider me for as part of your family, I know I will make you smile and fill your heart with warmth.
UPDATE! Ajax has been adopted by past adopter Gene and his beautiful girl Cheddar.
Location –
Ajax is currently in a foster home.

Weight –
40-45 lbs.
House Manners –
N/A

Children –
Good with children
Other Pets –
Ajax is good with other animals.

Sponsorship Status –
Sponsor Needed