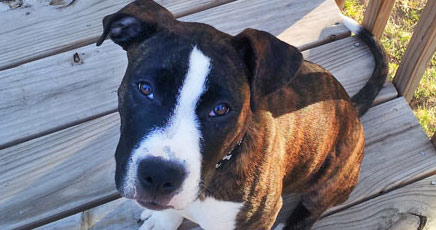 Charlie is a 4-mo old Mastiff/American Bull Terrier pup thriving in his foster home. This handsome boy is a smart, loving pup, anxious to please (especially when you cheer him on), and is VERY food motivated (which makes him very easy to train). He loves to follow his humans around and observe all the things you are doing. He's the perfect mix of curious and gentle, with a puppy spirit.
Among his favorite things are playing with toys, playing with dogs, playing with sticks or logs (or whatever is in the yard), and walking around the yard and house sniffing and exploring the world. He's got a great demeanor, is not destructive in the least (amazing for a pup!), loves his crate (with a peanut butter Kong, of course!), and is learning how to live with and respect cats. He loves other dogs, but really just wants to be the center of your world because he has so much love to give.
Charlie will be a big, loyal boy – at 4 months old is already 25 pounds. Mastiffs are the "gentle giants" of the dog world and live about 6-10 years, requiring only short periods of exercise (short walks or a little playtime with a fellow four-legged or two-legged). Charlie's foster mom can see he will be the PERFECT dog someday – he wants to just BE with you, wants to have positive experiences, is adaptable and smart as a whip, and full of love for his people and other pack members (be they cat, dog, or kid).
Location –
Charlie is currently in a foster home.
Weight –
N/A

House Manners –
N/A
Children –
N/A

Other Pets –
Charlie is good with dogs and learning about cats.
Sponsorship Status –
Sponsor Needed